Frameless Glass Balustrade Melbourne
Are you looking for eye-catching and reliable balustrades that provide safety and style for your property's staircase or balcony? At Handrails & Balustrades we offer unique and unmatched glass panel balustrading to our customers across Melbourne. Thanks to our years of experience delivering unique solutions we offer a huge range of style possibilities for both interior and exterior applications with our frameless glass balustrades. Melbourne homeowners can choose from our toughened glass in clear, tinted or frosted options, which are embedded into custom made stainless steel supports, to create their unique look and to comply with Australian Standards.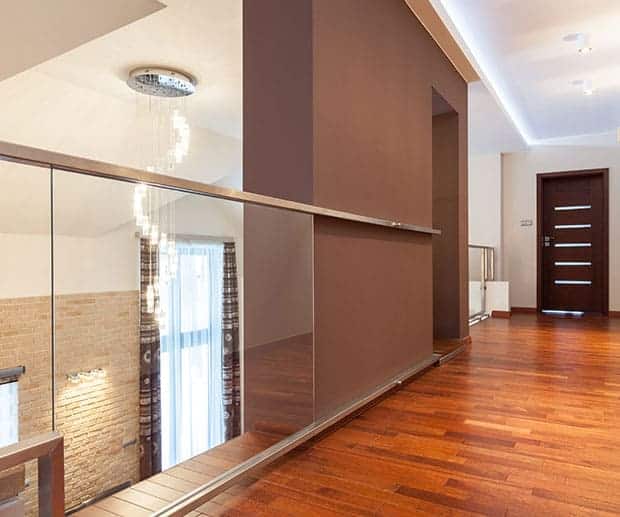 Glass Balcony Balustrades Melbourne
Toughened 10mm or 12mm thick glass panels are available in clear, tinted and frosted finishes. Our 1700mm high frosted glass panels are perfect for obscuring the neighbouring property. Thanks to the passionate team at Handrails & Balustrades, we can create perfectly durable high-quality glass balcony balustrades for Melbourne's weather. Committed to providing our customers with a wide selection of superior options, our products come in framed, semi-frameless and frameless options, creating a range of balcony glass balustrades Melbourne customers love. Thanks to their eye-catching design, glass balcony balustrades can add value and visual appeal to your home.
Stair Balustrades Melbourne
We provide a variety of styles from classic to modern so that every customer can have a safe and beautiful solution. Our stair balustrades for Melbourne homes are available in nautical wire or glass panelling, topped with quality stainless steel, Australian hardwood timber, or in beautiful floating frame designs. Our marine grade stainless steel is attractive, durable, rust-proof, easy to clean and offers great flexibility in design. We can also custom design and manufacture balustrading to your requirements. Have a browse through our gallery to see some of the bespoke solutions we have created for tricky and unusual spaces.
Glass Balustrades in Bundoora, Croydon, Eltham, Greensborough, Templestowe, Ringwood & wider Melbourne
We can provide solutions for tricky or complex design dilemmas. We can also supply frameless glass balustrades for pool fences or other areas where you want to enjoy a beautiful view without bulky obstructions. Alternatively, you can select from our frosted glass panelling to optimise privacy. Choose a balcony balustrade with half height frosted glass to avoid overlooking the neighbours while still enjoying an unobstructed view of the horizon.
Glass Pool Fencing in Doncaster, Heidelberg & wider Melbourne
In addition, you can choose the very popular frameless glass for your Melbourne pool or outdoor entertaining area. Comply with Australian safety guidelines whilst creating a visually unbroken outdoor space.
To learn more about our products, and to find the best in balustrades, handrails and frameless glass in Melbourne 'near me' please feel free to contact us on 0408 350 468 today.